This cake is baked and assembled with the pineapples and cherries at the bottom then filled with cake batter and once cooked, inverted to result in a soft buttery cake with the pineapples and cherries on a sticky caramelized top!
Baking this cake is unlike any other cake I usually bake. Most cakes I bake are pretty straightforward – in that you mix the batter, pour into tin and place in oven.
In this cake, we do things slightly differently. First we prep the cake tin. I use a springform cake tin because my sister taught me so! I line the base with foil, latch the sides, fold up any excess foil and we're ready to start.
I then get my pineapple rings and cherries ready. I used tinned pineapple and drain (but keep) the syrup. The pineapple rings are pretty moist, so use kitchen paper to blot out excess syrup. Cherries you can use whole or we prefer to cut them into smaller pieces.
For the oh so yummy sticky caramelised topping of the cake, start by creaming together butter and soft brown sugar. Spread on the base then arrange the fruits.
I used about 7 pineapple rings but different brands have different sized rings – so see what works best. Plop the cherries in the middle or around.
Now for the cake batter – the cake itself is like a moist vanilla butter cake. So cream together butter and sugar, followed by eggs, vanilla essence, some of the pineapple syrup from the tin, baking powder and self raising flour. Spread batter evenly on top of the fruits and it's ready to bake.
I typically place my springform tin on a baking tray before placing in oven. Just a precaution against any leaky batter – tho I've not had this problem before.
I bake this for 30 mins, then remove from oven, place a piece of foil loosely on top and bake for remainder 10-15 mins. This is to prevent over-browning of the cake.
Once done, I resist the urge to invert the cake to see the 'top' with the fruits. Sort of an unveiling of the cake. I let cool for at least 30 mins. Then unlatch the sides of the springform tin and remove, place a cake board on top and flip. Remove base of tin and peel off foil. Unveiling is done. 
The cake is such a lovely departure from the usual chocolate cakes and cheesecakes. The winning factor for me is the sticky caramelized top (oh the crusty edges!) which go so well with the sweet pineapples and cherries combined with the moist buttery cake.
I hope you give this a go.It's truly a fun cake to bake and the whole upside down process is very therapeutic. Flipping it over to see if the top comes out nicely can induce a mini heart attack but nevermind. 
Sometime back, when I baked this I skipped the step of blotting out the excess moisture from the pineapple rings and when I flipped the cake it was super sticky and 'not too set' so be sure to not skip that step! Good luck!
Click here for more recipes on cakes and cookies!
Did you try this recipe?
Please do let me know if you've tried it, by leaving a comment or tagging me on IG @thesuddencook.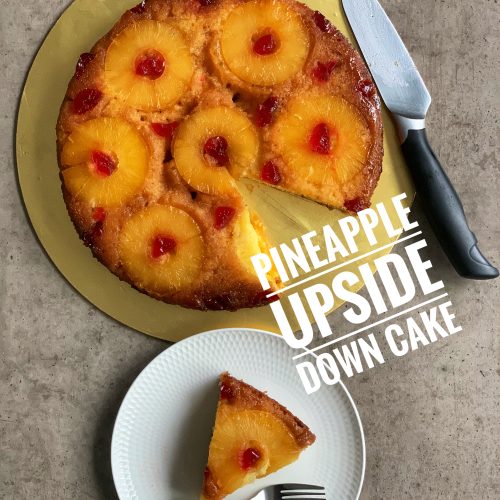 Pineapple Upside Down Cake
An extremely yummy soft and buttery cake with a caramelised brown sugar pineapple and cherry top!
Ingredients
I use a 20cm springform cake tin. I place a piece of foil large enough to cover the base and then latch the sides. Fold up any excess foil at the sides.
To make the topping:
100

g

Softened Butter

100

g

Brown Sugar

7-9

Pineapple Rings

I used tinned pineapple. Drain and keep the syrup. IMPORTANT: Blot excess syrup from the pineapple rings using kitchen paper. See notes.

Glazed Cherries

Can use them whole or halve them. We prefer them in small pieces.
For the Cake Filling:
200

g

Softened Butter

200

g

Caster Sugar

200

g

Self Raising Flour (Sifted)

4

Eggs

At room temperature

2

tbsp

Pineapple Syrup

1

tsp

Baking Powder

1

tsp

Vanilla Essence
Instructions
Pre-heat oven to 170C. Each oven is different, please adjust accordingly.
To make the topping:
Cream butter and brown sugar until creamy. Spread over the base of a 20cm round cake tin. I use a regular spoon to help me spread evenly especially around the sides. Arrange 7 pineapple rings (remember to reserve the syrup) on top and then place 7 glazed cherries in the centre of the rings. Or if like us, cut cherries into smaller pieces and place all around.
To make the cake filling:
Cream butter and sugar well. Then add in eggs (preferably one by one) and mix. Add in vanilla essence, 2 tbsp reserved pineapple syrup, baking powder and flour. Beat until well combined.

Spoon into the tin, on top of the pineapple and use a spatula to smooth it out till it's nice and level. Place cake tin on top of a baking tray (to avoid any leaky batter) and bake for 30 mins. Remove from oven, place a piece of foil loosely over the cake tin and return to oven for 10mins. Remove and allow to cool.
To invert cake:
Let cake cool at least half hour. Flatten the foil at sides. Unlatch the removable side of the tin and remove. Place a cake board on top and flip over. Remove bottom of pan & foil and DONE.
Notes
Top tips:
Once you have drained the syrup, place pineapple rings on some kitchen paper. Use another piece and blot out excess juice. I've skipped this step before and the top of my cake was too 'wet'.
Butter and eggs to be removed from fridge prior.
I've used a springform cake tin lined with a piece of foil as that is what works for me. Any excess foil at the sides I just fold up. I also place the tin on a baking tray just to avoid any batter from leaking out of the springform tin but that has actually never happened.
Let cake cool well (be patient!!) before attempting to unlatch cake tin to invert cake.
I hope you try it! It's a lovely cake and a grand departure from a chocolate or cheese cake.